Akbar Columbia Review
Address


Akbar

9400 Snowden River Pkwy #114
Columbia, MD 21045


Akbar Columbia Restaurant: Mediocre Indian Food
Indian restaurants in the U.S. are a lot like Bollywood movies.
Only 1% of Indian restaurants that we've graced serve palatable food, the rest like 99% of Bollywood films are plain garbage.
In our endless quest for a good Indian meal, we dined at
Akbar
in Columbia, MD the other day.
Akbar Columbia is located at 9400 Snowden River Pkwy in a small strip-mall, sandwiched between a nails store on the left and a Framed Ideas custom frames store to its right.
By the way, the Columbia restaurant is a sibling of the Akbar Baltimore.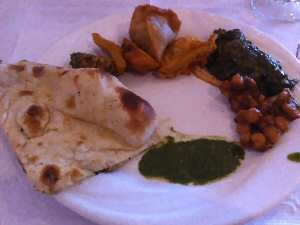 To get a good feel of Akbar Columbia, we decided to try the lunch buffet.
Alas, Akbar Columbia (MD) belongs to the category of mediocre Indian restaurants that provides little joy to connoisseurs of good Indian food.
Surely this crappy Columbia Indian restaurant exists only to torment diners!
Be it appetizers, entrees or desserts, much of what we sampled at Akbar Indian restaurant fell in the below par category.
Shame, $9.95 down the drain.
Flavorless Appetizers
Gobi Pakoras and the Samosa were flavorless junk that no self-respecting kitchen would place before diners.
Gobi Pakoras were rubbery and tasteless. Spinach Pakoras were way too hard. Even the daubing of the dark-green Chutney to the appetizers made little difference because the Chutney lacked the usual tangy spicy taste.
Pakoras and Samosas are commonplace Indian appetizers that even the worst Indian chef would have a hard time messing them up. But the clowns inside Akbar's kitchen must belong to a special species if they can screw up simple stuff like Pakoras.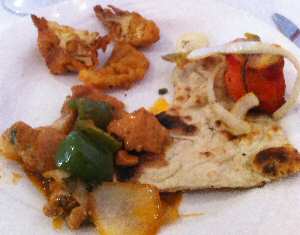 Horrid Naan and Below Par Entrees
Naan Bread had such a rubbery texture that it brought tears to our eyes.
Good Indian restaurants bring hot, fresh Naan directly to the table from the kitchen. But the lazy, indifferent folks at Akbar dump it in a vessel on the buffet table.
Plain rice with a yellow-color was a bit dry.
Chilli Chicken was not in the least hot (as in spicy). Was Akbar's kitchen playing a cruel joke on us, we wondered.
Poori was hot, nicely puffed up, tasty and had no oil dripping though it was deep fried.
A discomforting and unpalatable aspect was how spice-neutered all the items were at Akbar Columbia.
Cutting down on the spices and chillies robs Americans from getting a flavor of genuine Indian food and irritates the hell out of Indians who know the real deal.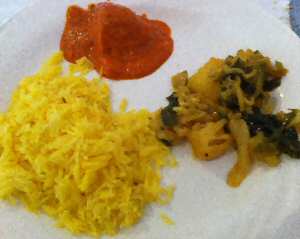 Vegetable Korma was a travesty. Devoid of any spices, it was a creamy, sweetish mess the likes of which have rarely made contact with our tastebuds. If it saw any chillies or spices, it must have been only in the chef's imagination.
Tandoori Chicken was insufficiently marinated and refused to yield any joy.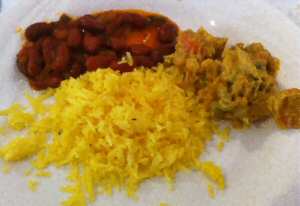 The creamy Chicken Tikka Masala was one of the few palatable items of our dreary meal. The chicken was tender and set in a creamy gravy bordering on sour.
Alu Cabbage and Kidney Beans curries were not meant for humans.
Or for animals either.
Utterly devoid of flavor or any evidence of spices, they were a ghastly nightmare, the memories of which send shivers down our spines.
Mercifully, the Spinach curry provided some respite from the merciless, relentless fusillade being fired at us. It was the best vegetarian dish among the worst.
Lousy Desserts
Desserts at Akbar Columbia amounted to no more than an aggravated assault on our Indian tastebuds.
Rice Pudding was low on sugar.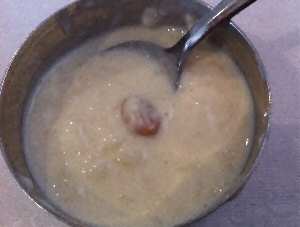 How on earth can an Indian restaurant screw up Rice Pudding! Must take special talent or a Ph.D in bad Indian cooking.
Gulab Jamun was a hard monstrosity.
If an Indian restaurant can't get the Gulab Jamun right, the most common of Indian desserts, they ought to abandon the food business.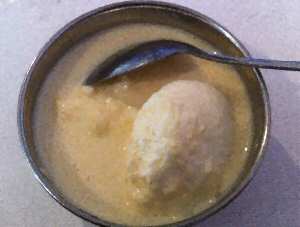 Rasmalai syrup was sweet but the cottage cheese ball had not sufficiently soaked in it.
So-So Service
As we walked in, the tall waiter (Nepali/Tibetan?) we encountered did not bother to greet us. He just asked the number of people in our party and rudely pointed his finger to a table.
The staff failed to replenish some of the food items like Vegetable Kurma, Alu Cabbage, Plain Rice and Rasmalai Patties that had hit the bottom on the buffet table.
While we do like friendly staff, one of the other waiters who attended on us was a garrulous fella who droned on and on.
It was our innate politeness and restraint that prevented us from asking him to shut his trap. The curious bloke even wanted to know if we had a house in India! No kidding.
Also, the stinking restroom could use an air-freshener.
Akbar Columbia Rating - Avoid
It's a shame that the kitchen at Akbar Columbia is peopled by clueless bozos who failed to get most dishes right.
MDIndia
recommends that you avoid
Akbar
if you love Indian food as much as we do. Columbia has far better Indian restaurants for you to waste time and money on this impostor. -
© MDIndia.us
Nearby Indian Restaurants
Royal Taj Columbia - Good Enough for Commoners
House of India
House of India Columbia - Sin Not to Eat Here
Flavors of India Columbia - Benchmark of Bad Indian Food
Mango Grove Columbia Review - Mediocre Food; Decent Service