Kadhai Bethesda Indian Restaurant
Address


Kadhai

7905 Norfolk Ave
Bethesda, MD 20814


Kadhai Bethesda Review: Extremely Disappointing
I have not the slightest doubt that bad Karma of several past lifetimes led me to
Kadhai Indian
restaurant on Norfolk Avenue in Bethesda.
As I walked into the restaurant for lunch, the crowd led me to believe that I was in for a treat.
Alas, I couldn't have been more wrong in my supposition.
Only at a crappy Indian restaurant like Kadhai would an item labeled Chilli Chicken be not one whit spicy or flavorful.
Chicken & Veg Appetizers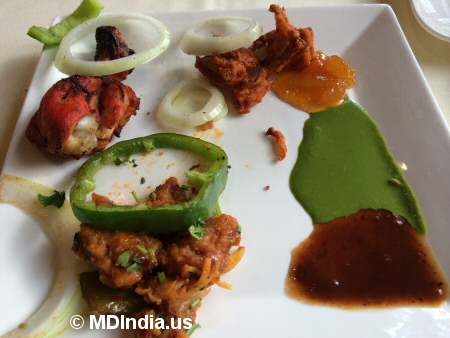 Tandoori Chicken (left) Pakora (top right), Chilli Chicken (bottom)
Tandoori Chicken was the usual ugly, pinkish-red atrocity inflicted on diners at a countless Indian restaurants in Maryland.
Besides lacking any flavor, the version at Kadhai was terribly dry.
No self-respecting restaurant would place such a monstrosity in front of paying diners.
Meat Entrees
Chicken Makhani (bottom), Gosht Masala (top)
Chicken Makhani was creamy but packed little flavor.
Gosht was far too chewy to yield any satisfaction.
Further, the gravy showed scarcely any evidence of spices.
Veg Entrees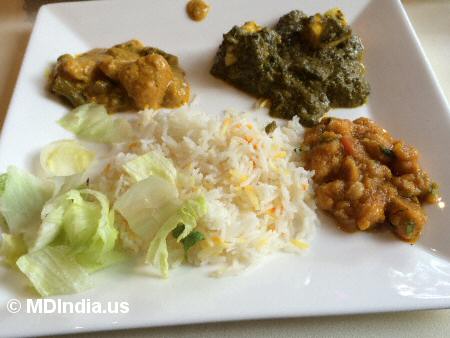 Navratan Korma (left), Palak Paneer (right)
Channa Masala (bottom right)
Overall, the vegetarian items at
Kadhai
were better than the meat items.
There were three vegetarian
entrees
on the lunch buffet (Navratan Korma, Palak Paneer and Channa Masala) during my visit.
Although none of them were spicy enough to win my approval, there was at least some flavor in the dishes.
Navratan Korma packed more flavor than the other vegetarian
entrees
.
Kadhai Bread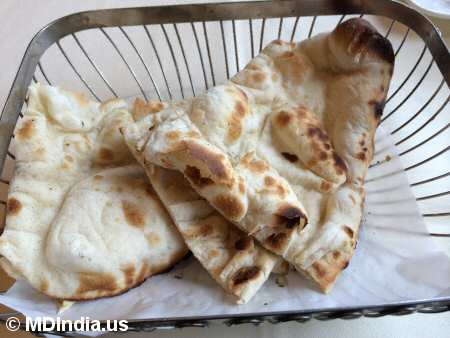 Naan Bread
Naan was the usual hopeless affair it often is at mediocre Indian restaurants.
A simple technique to lift Naan bread onto a higher plane is to daub some butter on it before rushing it to diners.
At least, the Naan bread was not thrown into a heap at the buffet station like some Indian restaurants still do.
Desserts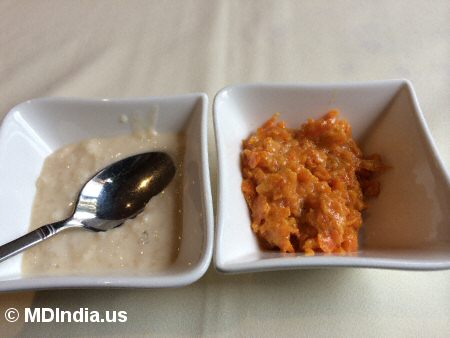 Rice Pudding (left), Gajar Halwa (right)
Of the two desserts I tried, Gajar Halwa was the better one.
It did not have the raw carrot flavor that ruins it at a lot of Indian restaurants.
But it could have done with a bit more ghee.
Kadhai's Rice Pudding, I wouldn't throw at hogs or dogs!
Ambiance
The restaurant is cramped with some tables too close for comfort.
Service was polite.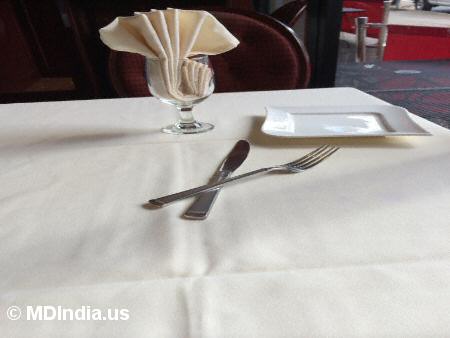 Kadhai Bethesda Rating
Overall, my meal at
Kadhai
Indian restaurant turned out to be a terrible disappointment.
There were a few comforts at
Kadhai
but not enough to consider a repeat visit or recommend the restaurant. -
© MDIndia.us