Basmati Annapolis Indian Restaurant Review
Address


Basmati

2444 Soloman's Island Road
Annapolis, MD 21401





Serves Disappointing Indian Food
Basmati Annapolis Review: Disappointing Indian Food
When we heard a new Indian restaurant
Basmati
had opened in Annapolis, we quickly turned on our GPS and headed toward the state capital.
We were glad to hear about
Basmati
because Annapolis previously had only one Indian restaurant. Hey, competition is always good for customers.
Ambience and Crowd
When we entered Basmati Annapolis around 11:45AM, just two tables were occupied. By the time we left, the restaurant wore a busy look with about two dozen diners.
We were greeted by a tall, thin waiter and quickly ushered to a table.
Located in Woodbridge Center on Soloman's Island Road,
Basmati
is a fairly spacious Indian restaurant.
There is a bar in front of the main entrance, the lunch buffet station is to the right and the cash counter on the left.
Our table was clean and silver was placed neatly on a papermat along with a black-colored cloth napkin.
As we were settling down, a waiter came and filled our water glassess.
Basmati Annapolis - A Travesty
To put it succinctly, much of the food we sampled at Basmati's lunch buffet was a travesty of Indian cuisine.
Be it vegetarian or non-vegetarian entress, Basmati's kitchen is an equal opportunity offender and unleashed a merciless fussilade on our taste buds.
Not a single item on the lunch buffet stood out in any noticeable way.
Indian curries derive their magic from the fine array of spices that are used in their preparation.
By dumbing down on the spices, Basmasti's lunch buffet deprives you of the magical and divine experience of eating Indian food.
Instead of subjecting your taste buds to Basmati's kitchen, you'd be better off picking up curry packets from the nearby Trader Joe's store on Jennifer Road.
BTW, we were not the only disappointed souls with Basmati's spiceless travesty.
At our adjacent table, a middle-aged White diner summoned a waiter and requested hot peppers.
Adding insult to injury, much of the food at the buffet station was either lukewarm or cold.
Mind you, this was within 15 minutes after Basmati had opened its doors.
Here's our take on Basmati's weekday lunch buffet:
Chicken Items
Basmati Annapolis lunch included two main Chicken items: Tandoori Chicken and Chicken Tikka Masala.
Tandoori Chicken was cold and not well marinated. Naturlich, we did not enjoy this commonplace North Indian Chicken item one bit.






Cold Tandoori Chicken (top left)
So-So Chicken Tikka Masala (bottom)

Set in a medium thick creamy sauce, Basmati's Chicken Tikka Masala was not flavorful and worse the Chicken pieces were a wee bit hard.
Vegetarian Items
Vegetarian items at Basmati's lunch buffet during our visit included Vegetable Pakora, Chutneys, Raita, Salad, Naan Bread, Alu Beans, Saag and Rajma entrees and White Rice.
Vegetable Pakoras were lukewarm and crisp.
Green Chutney, an accompaniment to the Pakoras, was too cold to be relished.
Tamarind sauce was alright.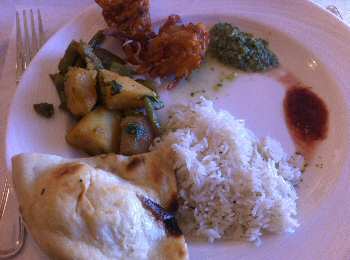 Tasteless Alu Beans (top left), Rubbery Naan Bread (bottom left)
Pakora (top center), Cold Green Chutney (top right)
Alu Beans included plenty of cut Green Beans and cubed Potato pieces. That's all we can say in its favor.

For Basmati's Alu Beans was deficient in both taste and flavor.

It was like eating cut Green Beans and Potato boiled in water.


A close competitor to the Alu Beans in horrid taste was Rajma.



Horrid Saag (middle left) Flavorless Rajma (top right)


Rajma is usually a flavorful red beans entree with sliced Ginger seasoning. But the Rajma at Basmati turned out to be flavorless, unworthy of being placed before a paying customer.
Basmati's Saag curry surely deserves the award for Worst-Item-of-the-Day.

Folks, it was that bad.

Sure, Basmati's Saag was medium thick as it should be.

But it was utterly bereft of taste and felt like a mere paste of finely ground spinach leaves.

To make a bad Saag worse, Basmati's Saag had a raw flavor suggesting it should have stayed on the stove a little longer.


Naan Bread was rubbery in texture and the edges were too thick.

Naan bread is not an item that can be deposited at a buffet station. Naan bread is best when served at the table straight from the Tandoor. Some Indian restaurants already do that and the rest must follow suit.
Raita was too watery and tasted milkish. The taste was so milkish as if it were prepared with yogurt that had not been set properly. It included grated Cucumber and Carrot but their flavor did not seep into the yogurt.
One of the few saving graces of our meal was the White Rice with Jeera seasoning. White Rice had a freshly prepared texture.
Dessert
Rice Pudding was the sole dessert on the lunch buffet.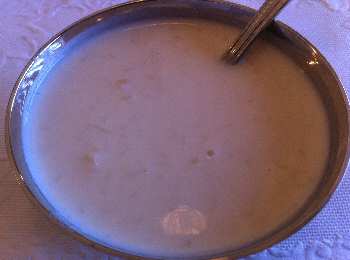 OK Rice Pudding
Basmati's Rice Pudding fell in the OK category but we'd prefer it a little more thicker and with some Pistachio powder dressing for added flavor.
Also, when the lunch buffet costs $10.95 we think there ought to be at least two desserts. Say
Gajar Halwa
or
Gulab Jamun
.
Folks, it's not just the curries that were mediocre at Basmati.
Even the water they poured from a glass jug into our glasses had a strong smell of Chlorine.
So-So Service
Sure, the waitstaff greeted us, seated us promptly and removed the used plates with alacrity.
But what irritated us was their attempts to hurry us through our meal.
Twice, our waiter asked us whether he could remove our plate while we were stll eating.
Basmati Annapolis Rating - Disappointing
Price Range
- $10.95 Weekday lunch buffet
Food Taste
- Mostly disappointing
Serving Size
- All you can eat buffet
Basmati Annapolis serves some of the most spiceless and tasteless Indian curries we've had the misfortune of putting into our mouth in recent days.
All in all, we did not consider Basmati Annapolis's lunch buffet to be value for money.
It's unlikely we'll be returning to Basmati Annapolis any time soon. -
© MDIndia.us