India Rasoi Baltimore Review
Address


India Rasoi Baltimore

411 South High Street
Little Italy
Baltimore, MD 21202

Closed






Closed
India Rasoi Baltimore: Good Indian Food, Decent Service
The other day we made a return trip to an old favorite
India Rasoi
at 401 S.High St in the Little Italy section of Baltimore for our curry fix.
As we entered around 1:40 p.m. on a weekend, the restaurant had four
desi
diners. Two Caucasian diners walked in shortly after us.
We were greeted by the familiar owner of the restaurant and quickly ushered to a table.
India Rasoi
is not your typical Indian restaurant for it does not offer Lunch Buffet meals.
The choice was between a Thali or ordering
a la carte
meals.
Being greedy cheapo desis we chose the Thalis and ordered Vegetable Pakoras as appetizers.
Crispy Hot Pakoras
Our Vegetable Pakoras came in about seven minutes of ordering along with green chutney and tamarind sauce.
India Rasoi Vegetable Pakora
Vegetable Pakoras (total 6 pieces) were hot and crispy and we mucho relished them with the accompanying flavorful green Chutney and tamarind sauce.
Good Vegetable Thali
Our Vegetable Thali included Vegetable Korma, Palak Paneer, Dal Makhani, one medium size Poori, Cucumber-Mint Raita, Gulab Jamun (2 pieces) and Rice.
Vegetable Korma set in a creamy reddish pink color flavorful sauce was a spicy melange of Potato, Beans, Carrot and Green Peas.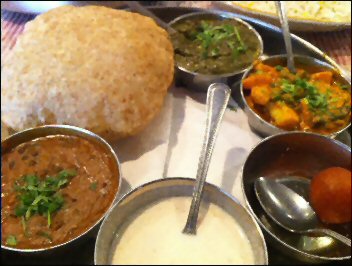 India Rasoi Vegetable Thali
We enjoyed the Vegetable Korma with both Poori as well as with the hot Basmati Rice.
Ditto with the well-spiced Palak Paneer which turned out very tasty.
Poori was hot, nicely puffed up, tasty and had no oil dripping though it was deep fried.
Raita was medium thick and the Cucumber, Mint, Onion flavor seeped well into the yoghurt making it very tasty and soothing on the tongue.
But Dal Makhani was a bit of a disappointment. It was akin to eating soft boiled lentils.
Gulab Jamun was just OK and we really did not enjoy it as the accompanying syrup was barely warm and slightly high on sugar.
India Rasoi - Decent Meat Thali
Our order of Meat Thali included Chicken Tikka Masala, Lamb Curry, Mixed Vegetable Curry, Four pieces of Naan bread, Basmati Rice and Cucumber Raita.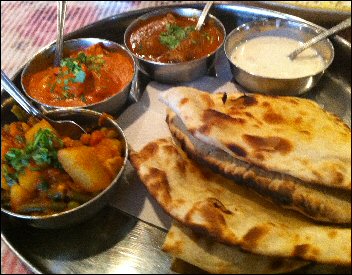 India Rasoi Meat Thali
Chicken Tikka Masala prepared with tender chicken pieces set in a creamy tomato sauce was a flavorful delight and much enjoyed with the hot naan bread.
Ditto with Lamb Curry which was set in a tangy brown color flavorful sauce.
Of course, India Rasoi's Chicken Tikka Masala is no stranger to us for we've had it with great delight on multiple occasions in the past.
Mixed Vegetable Curry - a combination of Cauliflower, Potato and Beans - was a spicy treat. The four pieces of Naan Bread came hot and soft to the table.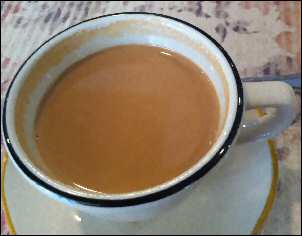 India Rasoi Masala Chai
We topped off our satisfying meal with a cup of Masala Chai, which came piping hot with a nice aroma of Indian spices and right proportion of milk and tea leaves.
Decent Service
Overall, the service was decent.
Our used plates were removed promptly and water glasses refilled several times.
Water glasses were placed upside down on a glass panel along with the fork and knife. While we were not that happy about the table practices, what made our meal comfortable at India Rasoi was the separate dining plates that came with our Thalis. Most Indian restaurants do not provide separate dining plates when a Thali is ordered and you have to eat directly from the Thali plate.
India Rasoi Baltimore - Rating
Based on the fine food and pleasing service at India Rasoi, it won't be long before we drop anchor again at this fine India restaurant in Baltimore. -
© MDIndia.us