Spice Xing Rockville Indian Restaurant
Spice Xing Rockville Review: Liars, Spiceless Travesty
When an Indian restaurant dares to sport a name like
Spice Xing
, the least it can do is dish out spicy food to customers.
Not a spice-neutered travesty of dishes that send discerning Indian diners like yours truly into high dudgeon.
A short walk from the Rockville Metro Station, Spice Xing is not catering to Indian palates as much as Americans who love to blab they had "Indian" for lunch but are petrified about touching spicy food.
During my recent visit to
Spice Xing
, I couldn't help but notice that most diners were Americans.
Appetizers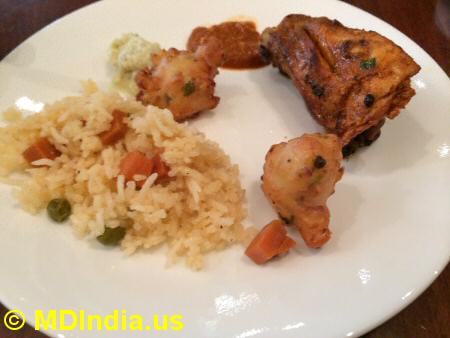 Tandoori Chicken (top) Punugulu (middle)
Tandoori Chicken is a frightful red-pink monstrosity at a lot of Indian restaurants in the U.S.
Mercifully, it was not so at
Spice Xing
. Although
Spice Xing's
Tandoori Chicken was not the best I've had it was one of the better ones.
While lacking in spice, the chicken was well marinated and had some flavor and juice to it.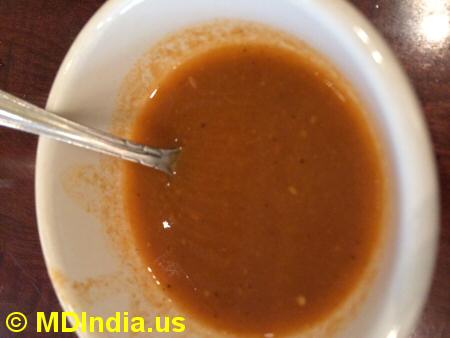 Tomato Shorba
On a cold day, Tomato Shorba would have been a welcome treat if only it had been hot temperature-wise.
A bit spicy, and a little thick, it was still relished.
If it were warmer, I'd have sung paeans in its praise.
Chicken, Fish & Potato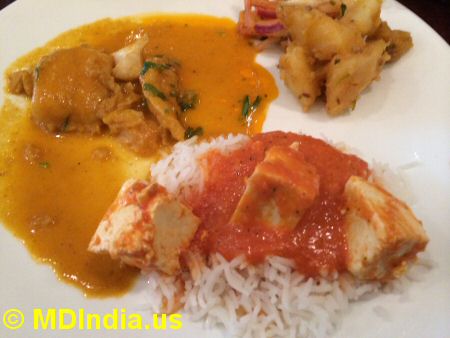 Fish Curry (left) Potato (right), Paneer Makhani (bottom)
Where
Spice Xing
collapsed completely was in its entrees.
There was little evidence of any spice being used in the preparation of Chicken and Fish curries.
Both were set in a slightly thick gravy with some vegetables thrown in.
They looked similar and the gravy tasted similar.
Did the same gravy make its way into both curries?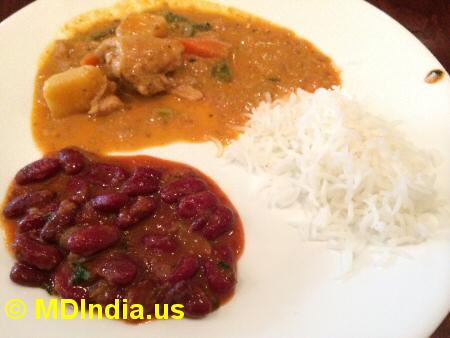 Chicken Curry (top) Rajma (bottom)
I encountered repeated disappointment on the vegetarian side too.
Aloo and Rajma curries were nothing to write home about.
What's wrong in adding a few chillies to the curries?
Paneer Makhani had some flavor to the dish but I wouldn't rave about it. Kinda like,
in the country of the blind the one-eyed man is King
.
Naan Bread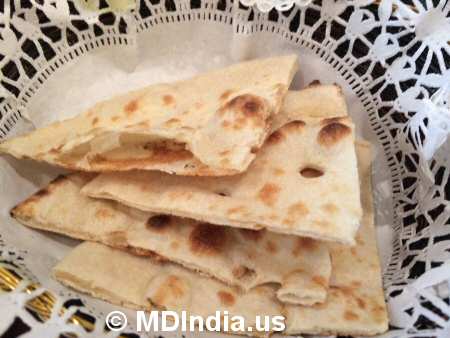 Naan Bread
Again, there was nothing special about the bread.
The good thing is that the bread was delivered hot to the table, not thrown in a heap at the buffet counter like some trashy Indian restaurants do.
Desserts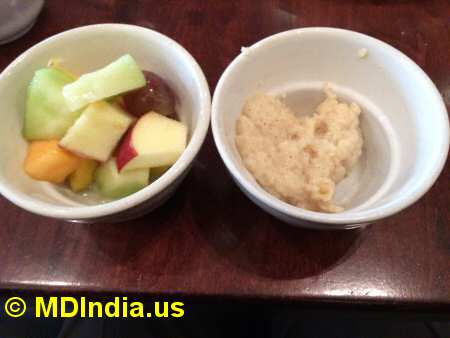 Cut Fruits (left) Suji Halwa (right)
Suji Halwa did not send me into an ecstasy.
It was a wee bit low on sugar!
If pressed, I'd give it a B-.
But the fruit salad was a winner.
Ambiance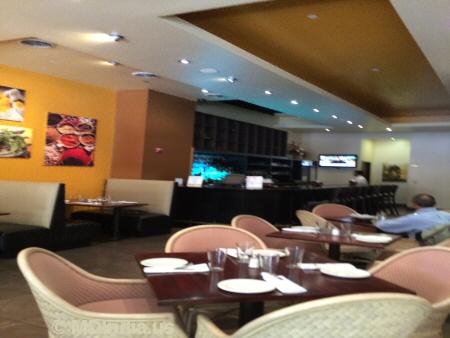 Spice Xing
has a decent look and feel, better than your average Indian restaurant.
Service was pleasant. No issues here.
The young lady checked with me before clearing the plates.
The restaurant is spacious and clean but some tables have seen better days and the top is wearing out.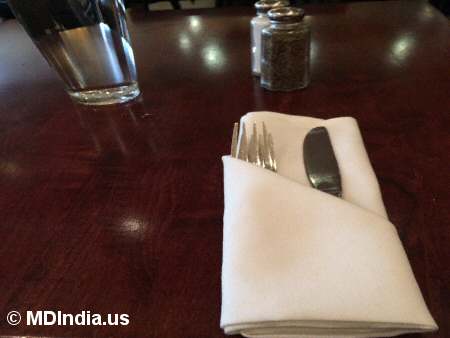 Spice Xing Rating - Liars
But at the end of the day, a restaurant is essentially about food.
Spice Xing Rockville serves some of the most spiceless, tasteless and bland Indian curries I've had the misfortune of putting into my mouth in recent days.
I would not recommend
Spice Xing
to those who relish authentic spicy Indian curries. -
© MDIndia.us