Bethesda Curry Kitchen Review
Address


Bethesda Curry Kitchen

4860 Cordell Ave
Bethesda, MD 20814


Bethesda Curry Kitchen: More Misses than Hits
Bursting with hope, I entered
Bethesda Curry Kitchen
on Cordell Avenue.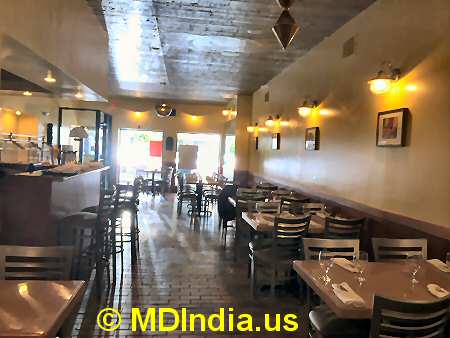 A recent visit to the nearby
Kadai
restaurant had proved disappointing and I prayed for better luck at
Bethesda Curry Kitchen
.
Bethesda Curry is a no frills, clean restaurant.
The silver was kept neatly inside the napkins (I am shocked to see a lot of Indian restaurants still leave silver directly on the table).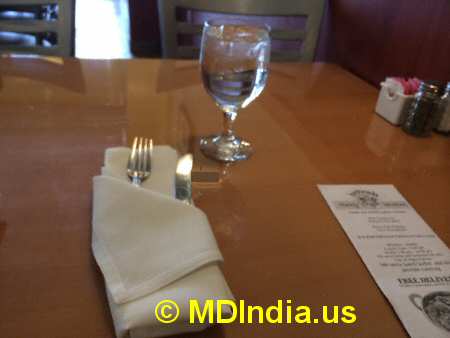 Appetizers
Since my visit happened around noon, I gravitated toward the buffet.
Upon spotting Medhu Vada and Mini Uttappams, my South Indian heart skipped three beats.
Medhu Vada, Uttappam or other South Indian items are still not common in Indian buffets.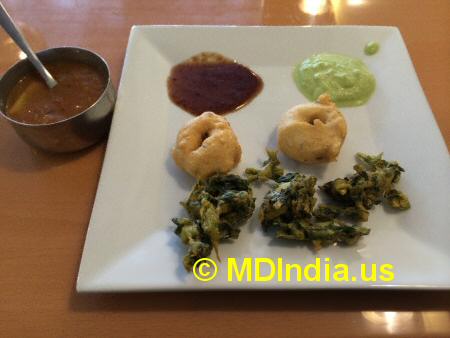 Medhu Vada (middle) Spinach Pakora (bottom)
Sides (top), Sambar (in bowl)
I quickly got two Medhu Vadas along with some Pakoras, Chutney and Sambar.
One bite into the Medhu Vada and I yelped in agony.
Mon dieu
, this was not the Medhu Vada I had enjoyed to great delight on a trillion occasions, in India and here in the U.S.
Medhu Vada looked deceptively attractive on the outside but had a rubbery texture inside.
This was obviously not fresh stuff!
Compounding my distress, the Green Chutney was ice-cold since it'd been placed on ice! It was also badly lacking in chillies.
It's hard to show love to an Indian restaurant when the Green Chutney is not spicy.
Pakoras were crisp but not much to write home about.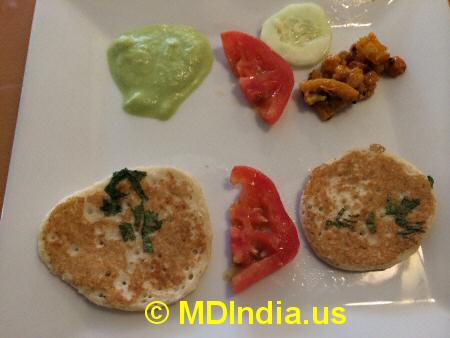 Utappam (bottom)
Mini Uttappams were another pothole I fell into.
Utterly flavorless, it was worse than a travesty.
When Uttappams are good, you don't need Chutney or Sambar!
Entrees
Tandoori Chicken was good but not in the class of
Tandoori Nights
on Woodmont Avenue.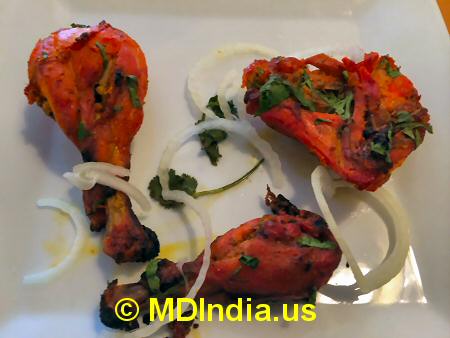 Tandoori Chicken
It was well marinated with yogurt and some mysterious spices.
I'd have been happier if the Tandoori Chicken had been marinated with a spicy paste! I can dream, can't I?
Little did I realize at this stage that a bigger calamity awaited me.
Chicken Curry was a let-down of Brobdingnagian proportions - Mainly because it was dumbed down of the spices that makes this traditionally hot dish extremely popular with Indian palates.
Given that the restaurant's name is Bethesda
Curry
Kitchen, I'd have expected a curry dish to be the spicy, standout treat. Alas, I was so wrong.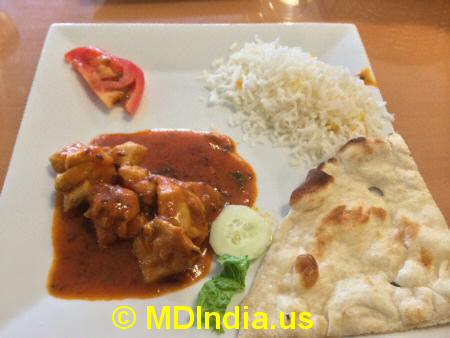 Chicken Curry (left) Naan (right) Rice (top right)
Cabbage Poriyal and Sag with corn were eminently forgettable.
All I can say in their favor is that they appeared to be cooked.
Bereft of flavor or spices, it's an affront to be at the receiving end of such junk!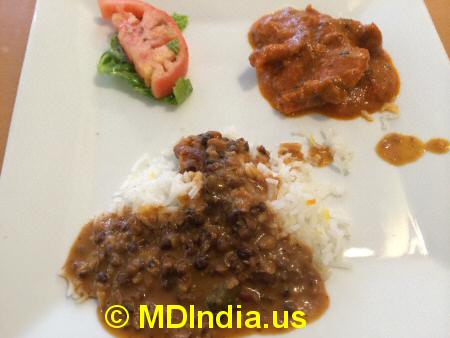 Butter Chicken (top right) Black Dal (bottom)
Paneer Makhani and Butter Chicken packed some flavor but nothing that tempted me to go in for a second helping.
Black Dal turned out to be one of the delights of my so-so meal.
It had the flavor of ginger and packed a bit of heat too.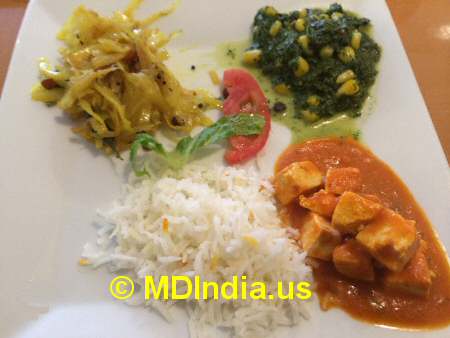 Saag Corn (top right), Cabbage (top left),
Paneer Makhani (bottom right)
Bread
Naan bread was brought fresh to the table, not dumped in a heap at the buffet station.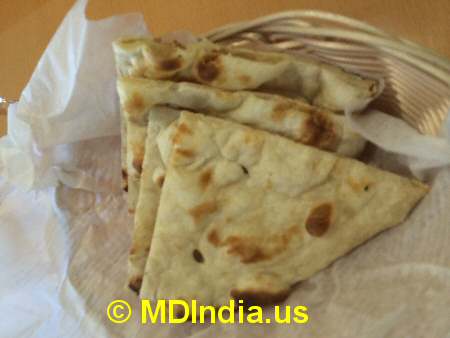 Naan Bread
Naan bread was alright.
Nothing that gave me grief and nothing that delighted me greatly.
Gajar Halwa
Made from carrot, Gajar Halwa is a common fixture at most Indian restaurants in the U.S.
When done well, it can be a nice treat inducing a drooling fit.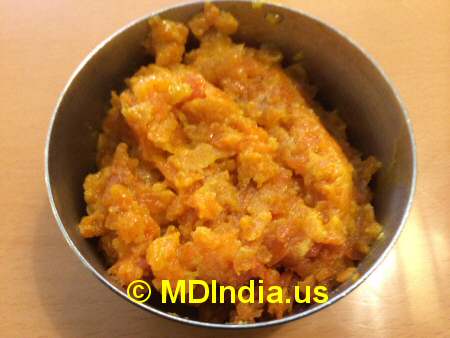 Gajar Halwa
Alas, the Bethesda Curry Kitchen version of Gajar Halwa was anything but a treat.
It was lacking in sugar and badly wanting in ghee.
An Indian restaurant that messes up Gajar Halwa deserves no mercy! March the villain straight to the guillotine!
Bethesda Curry Kitchen - Rating
During my visit, I found several White diners taking their used plates back to the buffet station for replenishing them. The restaurant staff meekly asked diners to use new plates but the suggestion fell on deaf ears.
Overall, my Indian palate didn't get too excited with Bethesda Curry Kitchen.
Bethesda Curry Kitchen is no different from a gazillion Indian restaurants in the DC metropolitan region that offers mostly average fare. There's nothing exciting about this Indian restaurant's food that tingled my palate.
Bethesda Curry Kitchen turned out to be an Indian restaurant with more misses than hits. -
© MDIndia.us